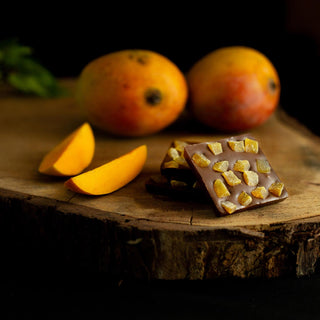 Adventurous Fruit Chocolates
A mélange of spiced fruits with 55% Dark Belgian Chocolate so unimaginably new. Flavours so fresh and juicy. Experiences so undiscovered. Bite into a Goosebumps Fruit Chocolates to believe it.
---
Goosebumps Fruit Chocolates - Experience the undiscovered!
Fruit Chocolates are surprises wrapped under a veil. A mélange of spiced fruits with dark chocolate so unimaginably new. Flavours so fresh and juicy. Experiences so undiscovered. Bite into a Goosebumps Fruit Chocolates to believe it.

Goosebumps fruit chocolates are made with delicious Belgian dark chocolate and masala fruit pieces made from real fruits. Everybody loves chocolates. Simply delectable, the Goosebumps fruit chocolates are a step ahead when it comes to trying something new. Masala fruit bits further enhance the taste.
The delectable ingredients
This product from the Goosebumps brand is made from 55% dark Belgian chocolate with roughly chopped masala fruit bits, such as orange, mango, cranberry, black currant, Guava, grapes, ginger, and Lychee. The bar has a pleasant appearance. The fruit pieces are uniformly distributed around the bar looking like studded gems. They're all tangy and flavourful while the chocolate is rich and creamy, and it acts as the ideal foil for the fruit chunks. It is not too sweet which perfectly complements the flavour profile of the fruit bits.

Various fruits dipped in the smooth dark chocolate present a delicious flavour combination you'll find in our chocolate-covered fruit chocolates. Whether you're giving our gourmet fruit-filled chocolate as a present or treating yourself, deliciousness reigns supreme... and you'll taste it in every mouthful!

Preparing outstanding chocolate goes beyond the meticulous attention to detail and extends to the love that we put into each confection. It's all about the highest-quality products acquired sustainably from local partners, as well as the high-quality relationships we're cultivating within our community.

Allow yourself to indulge your sweet taste, knowing that each delicious mouthful of fair trade chocolate is helping to improve the lives of cocoa farmers all over the region. Fruit doesn't have to be drab, and you'll never look at fruit the same way again after trying these fruit and chocolate pairings.

With Goosebumps fruit chocolates, discover the extraordinary joys of irresistibly smooth 55% dark Belgian chocolate. After just one bite, you'll realize why these chocolates are so special.
Goosebumps.Store is World Class Fusion Food Brand
Goosebumps is an exclusive range of yummilicious classic pickles and fruit pickles, indulgent fruit chocolate, lip-smackingly healthy masala fruits and must-try fusion snacks like #FirstTimeEver fruit flavoured makhana, #Healthy trail mixes & more.

Goosebumps begin life as natural ingredient, handpicked straight from Mother Earth's lap. We masterfully blend them with modern gourmet flourishes refined by top chefs and let the magic of the recipe take its course in the nourishing warmth of the Sun. Soon, these recipes emerge from the centuries old processes, tried and tested by mothers and grandmothers, as pure gastronomic works of art.

Ready to give Goosebumps to those who love to take their tongues on an adventure.
---