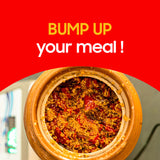 Classic Indian Pickles
Bringing textbooks to reality with our palpable pickles!
Pickles are a staple condiment that makes everything more flavourful and enticing. At our Goosebumps Store, we bring our traditions in new age jars of delectables. Our best is all here for you to relish and savour, and for your loved ones too.
---
Buy Goosebumps Pickles Online
Looking for pickles that taste homely and delicious? Stop your search today!

Food can always be made better and more amazing than it already is. Don't worry, we don't doubt your cooking. We are here to tell you that we can make your great food more flavorful.
With homemade pickles of different profiles and multiple degrees of spiciness, Goosebumps brings you a variety of kitchen table range of delicacies to make your food heavenly.
Without a spoonful of this sweet, tangy, strongly spicy, and mouth-watering pleasure, no dinner is complete. A delicious pickle's journey begins with hand-picking the right ingredients, assembling the spices and natural preservatives, and then waiting for the pickle to do the magic itself. This takes us down the memory lane of childhood vacations with helping our grandmothers prepare them. These massive jars brimming with fresh pickles, sitting on terraces under the sun, conjure up images of carefree vacations.

With life being fast and time consuming already, not everyone has the time to curate an age-old recipe of pickles. Goosebumps offers a wide variety of delightful, delectable best pickles online that taste much like the ones you'd make at home.
All Natural, Preservative Free Pickles
The company looks out the best natural and organic products available while adhering to the industry's standards.

Pickles are curated carefully and infused with a wide range of flavours and textures and are typically preserved with sugar, lime water, vinegar, oil or salt. Indian pickles are transformed into a modern relish that enhances the flavour of food. Pickling with oil is one of the most commonly used methods for preserving food. Once preserved, the food does not require refrigeration and travels well, making it perfect for long-distance travel. Even with less oil or no oil, these pickles could be kept and consumed for a year making them the best homemade pickles online. Before packaging, all Goosebumps pickles are matured and naturally fermented. We present numerous flavours for you to choose.

Almost every corner of India has its own version of 'home made achar' created with locally sourced ingredients. Multiple varieties of Indian pickles are available online at Goosebumps.Store, including all traditional pickles like the tangy Khatti Keri, stuffed Green Chilies, sweet Lime, Mixed pickle, Red Chillies, Garlic along with some famous pickles like Amba Halad, the vintage Gol Keri Ker Sangri, Grated Mango, Chunda / Chundo / Choondo, and Gol Keri. There are dozens of pickle options on the market, but in a competitive market, each manufacturer comes up with unique tastes and ingredients. This makes it difficult for customers to choose the best option. Relax, we've got you covered; just order from our online pickle store and get it delivered to your doorstep. Goosebumps meets your cravings with their delectable achaar line.
Goosebumps.Store is World Class Fusion Food Brand
Goosebumps is an exclusive range of yummilicious classic pickles and fruit pickles, indulgent fruit chocolate, lip-smackingly healthy masala fruits and must-try fusion snacks like #FirstTimeEver fruit flavoured makhana, #Healthy trail mixes & more.

Goosebumps begin life as a natural ingredient, handpicked straight from Mother Earth's lap. We masterfully blend them with modern gourmet flourishes refined by top chefs and let the magic of the recipe take its course in the nourishing warmth of the Sun. Soon, these recipes emerge from the centuries old processes, tried and tested by mothers and grandmothers, as pure gastronomic works of art.

Ready to give Goosebumps to those who love to take their tongues on an adventure.
---