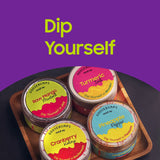 Achari Dips
A quest to bring achars out of Indian Thalis... ends here!
Give your taste buds an offbeat experience with Goosebumps Preservative-free Achari Dips, seasoned with aromatic Indian spices with a base of popular Indian Pickles. It is so tantalising, so smooth, a perfect combination of spice, sweet and everything nice!
Start dipping yourself in Happiness!
---
Goosebumps achari Dip, chutney and spread.
Goosebumps achari Dips are India's first Non-mayo dip handcrafted by our Master blenders to give your taste buds a flavourful dipping experience with the best of Indian spices like mustard seeds, fennel seeds, cumin seeds, kalonji seeds and fenugreek. These whole spices are sun-dried before before grinding into fine powder to make aromatic achari dips.
How to eat Goosebumps Achari Dips
The best pairing for Goosebumps Achari dip.

Pineapple Pepper Dip: Nachos, tacos, tortillas, Dip for seafood, sandwich spread, Pizza topping, Topping for Muesli, Iced Mocktail flavoring.

Raw Mango Mustard Dip: French Fries, Sandwich spread/Burger topping, Pasta sauce addition, Salad Dressing, Flavor boost for Curries/sabzis/Soups, Dip for chips/lavash/breadsticks, Marinade for meat, fish, vegetables etc.

Cranberry Kalonji Dip: Sandwich spread/Burger topping, Dip for chips, nachos, or vegetables, Great for a fried rice base, Ideal substitute for tamarind sauce/chutney, Khakra, thepla spread.

Turmeric Imli Dip: Dip for fruit chips, vegetables, chips, fries etc, ideal flavor enhancer for curries, sabzis, sauces, soups etc, Marinade for Meat, fish, and vegetables etc, Spread for sandwiches/Burgers.

Enjoy a new way of adding flavour and texture to your snacks and meals with Goosebumps Achari Dips.
Goosebumps.Store is World Class Fusion Food Brand
Goosebumps is an exclusive range of yummilicious classic pickles and fruit pickles, indulgent fruit chocolate, lip-smackingly healthy masala fruits and must-try fusion snacks like #FirstTimeEver fruit flavoured makhana, #Healthy trail mixes & more.

Goosebumps begin life as a natural ingredient, handpicked straight from Mother Earth's lap. We masterfully blend them with modern gourmet flourishes refined by top chefs and let the magic of the recipe take its course in the nourishing warmth of the Sun. Soon, these recipes emerge from the centuries old processes, tried and tested by mothers and grandmothers, as pure gastronomic works of art.

Ready to give Goosebumps to those who love to take their tongues on an adventure.
---