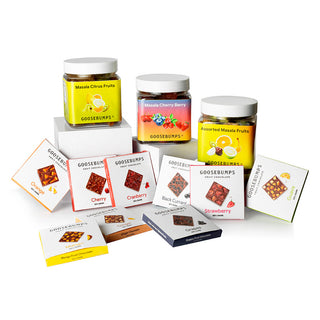 ---
Goosebumps Money-Saver Combos
Looking for a unique way to introduce a friend or family member to superior handcrafted delicacies? Our iconic Indian Specialty Goosebumps assorted food combos, as well as our all-time favourite Goosebumps healthy snack combos, are here for your rescue. Also, you get the best deal ordering these food combos compared to ordering all these items separately. We know you won't be able to stop at one!

With a wide variety of combos to pick from, there's something for everyone in these packages. If you need a gift, this comes packaged in a lovely gift box and is ready to give.

Choose from an Assorted combo of Masala Fruits and Masala Chocolates that work as a wonder-full and healthy aftermeal, or Fruit Pickle Combo of our exotic and #neverbefore Orange Fennel Pickle, Cranberry Kalonji Pickle, and Pineapple Pepper Pickle. Because we know it is cruel to make you pick just one!
Goosebumps Pickles Combos
You can never go wrong with our Exclusive Best Selling Pickles Combo to adorn your dining table with the best and diverse tasting Olive and Jalapeno Pickle, Chunda, Khatti Keri Mustard, and Lime: Sweet. Let everyone in the family pair them with Rice, Paratha, Briyani, or Naan as per their liking.
Goosebumps Spices Combos
Our Spices Combos come packed with variety and authentic taste. Opt for Assorted Spices Combo and get your hands on essential Masala and Spices that include Garam Masala, Methi Masala, Tea(Chai) Masala, Rasam Masala, Sambhar Masala, and Mulaghai Podi. You may also go for South Indian Spices Combo. They are a must-have for authentic tasting South-Indian food.
Goosebumps Healthy Snack Combo
It is said that health is wealth. Keeping the philosophy in mind, Goosebumps has put together this well-balanced platter of healthy snacks. Enjoy these tasty and healthful snacks of Fruit Makhanas, Fusion Snacks, Nuts and Seeds mixes, and Healthy Ginger and Turmeric Crisps, before or after a workout, or with a cup of coffee. That's a great way to start a healthy day!

Our Immunity Combo is one of the best healthy food combinations. All of our favourite healthy snacks in one place featuring the classic Masala Amla, Masala Orange, Masala Ginger, Moong Chatpata, and Amba Halad. Ideal for giving to loved ones, family, friends, co-workers, guests, even clients. Show that you care and that you mean it.

Similarly, We have the best online snacks combo of Assorted Chocolates, Masala fruits, Fruit Pickles, Fruit Makhanas, Classic Pickles, Masala and Spices, Healthy Snacks and Savories at Goosebumps.

Revel in premium deliciousness with these healthful gourmet delightful healthy food combos. Simply browse and purchase tea, spices, chocolates, health foods, and other assorted food combos online on our website.
Goosebumps.Store is World Class Fusion Food Brand
Goosebumps is an exclusive range of yummilicious classic pickles and fruit pickles, indulgent fruit chocolate, lip-smackingly healthy masala fruits and must-try fusion snacks like #FirstTimeEver fruit flavoured makhana, #Healthy trail mixes & more.

Goosebumps begin life as natural ingredient, handpicked straight from Mother Earth's lap. We masterfully blend them with modern gourmet flourishes refined by top chefs and let the magic of the recipe take its course in the nourishing warmth of the Sun. Soon, these recipes emerge from the centuries old processes, tried and tested by mothers and grandmothers, as pure gastronomic works of art.

Ready to give Goosebumps to those who love to take their tongues on an adventure.
---