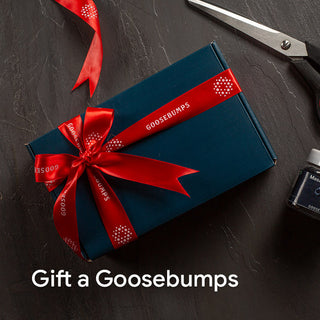 Gift a Goosebumps - Goosebumps Moments
---
Goosebumps brings you the joy of gifting.
We offer gifting options that are all about individual character and careful personalization, with hundreds of unique products in our gift hamper collection. We have something for everyone, from delicious treats like homemade classic pickles to lip-smacking after-meal Masala Fruits and healthy Fusion Snack Mixes and Chatpata Fruit Makhanas to delicious premium Fruit Chocolates. Without a doubt, the enticing flavours of our extensive selection of chocolates and munchies will drive your taste senses into a frenzy of captivating flavour.

Our bountiful gift hamper boxes are filled with the most delectable treats, eliminating the ever-present question of "What to Gift?"

Goosebumps has always been keen to serve its consumers with an extraordinary range of its irresistible, nutritious, and healthy choice of fresh health food gift goods.

An extensive collection of Fruit Pickles, Classic pickles, Masala fruits, Fruit chocolates, Fusion Snacks, Fruit Makhanas, Indian Masala and spices, Healthy crisps, and their combo adorn the colossal section of our gift hampers online. Goosebumps Gift hampers contain the best of both worlds: a little health and a little heart.

Enjoy our exclusive selection of gift hampers, baskets, trays, and premium chocolate boxes this holiday season. Whatever may be the occasion, the surprise of homecoming, the fun-filled get-togethers, the joy of celebrations or festivals; spread joy with our truly heartwarming gift boxes for all occasions.

Gift a Goosebumps!
Our range of Best Gift Hampers
Carnival Gift Pack Of Chocolates: What is the best, most perfect, must-give gift for your family and friends? Yes! It is Chocolate. As the saying goes "Chocolate Makes Everything Better". Surprise your loved ones with chocolate-filled delight to celebrate the moments you've enjoyed and the memories you've cherished. Our beautifully designed chocolate gift packets come packed with heavenly flavours and blends and also ensure that you are the reason for their smiles!

Extravaganza Gift Box: In this elegantly crafted gourmet gift hamper, deliciousness comes in many forms. The Extravaganza gift box sets, which include several quality products, wonderfully combines style and grandeur. These bountiful gift boxes contain our most sought-after goodies. With an option to take a pick from a set of Gift boxes of 34, 32, 30, or 18, you can revel in our choicest selection of Masala Fruits, Fruit pickles, Snack Mixes, Chatpata Fruit Makhanas, and Fruit Chocolates. With this beautifully designed wooden keepsake gift box; indulge in quality deliciousness.

Limited Edition Wooden Box of 15+12: With this healthful gourmet tasty delicacies gift hampers, give the gift of taste and nutrition. 15 varieties of our unique yet delectable Masala Fruits and a pair of our 6 varieties of delicious premium Fruit Chocolates - together they're the ideal pair for sending a lovely surprise to make a loved one smile.

Eco Gift Box: With Goosebumps by your side, you have a wide variety of options for gifts to choose from, depending on your preferences and budget. Go for our personally handpicked combinations of Masala Tropical Fruits and Chocolates, or all Citrus Masala Fruits, or Masala Mix Berries and Nuts, or perfect assemble of Dark Fruits; inheriting a treasure of irresistible flavors.

It's time for some Goosebumps!

Gift Trays: Adorn your own kitchen with these stylish gift trays or pamper your loved ones by sending over a choicest assortment of Fruit pickles, best-selling classic pickles, or signature aftermeal Masala Fruits. So, what are you waiting for? Choose from our complete packages of taste and health and place your order. These lovely gourmet gift hampers will be on your doorstep before you know it!

We've built a strong reputation for our extensive assortment of signature, delicious, and healthy modern gourmet flourishes since our inception. To better serve our online customers, visit our interactive website, where customers can purchase all of their favorite Goosebumps items and have them delivered to their doorstep.

Simply browse and purchase online tea masala, original spices, rich dark chocolates, healthy snacks, classic pickles, gift hampers, and other items right here on our website.

Come indulge in the greatest shopping experience and tickle your taste buds!
---